SGA Monthly: December 2020 Issue
Winter Break Edition!
December 30, 2020 5:13 PM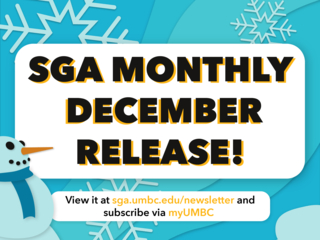 Happy Holidays, UMBC! We hope you are enjoying this time.
In December's issue of SGA Monthly, find all the information you'd want to know about our plans for the Spring semester -- from the opinions of current students on how last semester went, to ideas and new implementations being planned by our Spring COVID-19 Planning Committee!
Read a conversation with the Counseling Center about the services that UMBC offers, and a series of captivating features on both SGA and overall UMBC community members that you won't want to miss!