SGA Monthly: November 2020 Issue
The holidays are around the corner!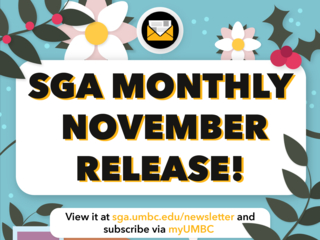 December may have arrived as quickly as November left, but we've got one more thing from last month to give to you! In November's issue of SGA Monthly, read about UMBC administrator Gregory Simmons' life and his words on uncertainty and peace, the world that student Tirzah Khan is passionate about, and the deep bonds that Arbutus' Finders Keepers Thrift & Consignment store builds! Plus, learn more about UMBC's Retriever Essentials & how you can help during the holidays -- and find out what SGA has been up to for the past month!