SGA Senate Office Hours: Dates + Locations
Come talk with SGA senators during their office hours!
September 27, 2020 2:51 PM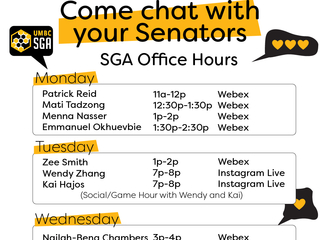 SGA Senators are hosting Office Hours to create a space where you can connect, learn about SGA, voice your concerns, relax, and more!
Office hours will either be held on Webex or Instagram Live (@umbcsga). Clicking on a Senators name during their scheduled hours will redirect you to their office hours. 
Fall 2020 Office Hours:


Monday


Tuesday
           Wendy Zhang + Kai Hajos hosting jointly: Social/Game Hour


Wednesday
             Meditation/Mindfulness Hour


Thursday


Friday