Counseling Groups and Workshops for Spring 2020
Improve Your Well-Being Through Connection with Others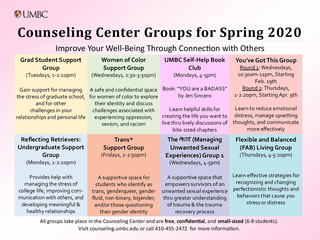 The Counseling Center is offering many groups for students to participate in this spring semester!
The dates and general descriptions are listed as the following:
Grad Student Support Group (Tuesdays, 1-2:20pm)
Gain support for managing the stress of graduate school and other challenges in your relationships and personal life.
Women of Color Support (Wednesdays, 2:30-3:50pm)
A safe and confidential space for women of color to explore their identity and discuss challenges associated with experiencing oppression, sexism, and racism
UMBC Self-Help Book Club (Mondays, 4-5pm)
Book: "YOU are a BADASS" by Jen Sincero
Learn Helpful skills for creating the life you want to live thru lively discussions of bite-sized chapters
You've got This Group Round 1: Wednesdays 10:30-12pm, Round 2: Thursdays, 1-2:20pm
Learn to reduce emotional distress, manage upsetting thoughts, and communicate more effectively
Reflecting Retrievers: Undergraduate Support Group (Mondays, 1-2:20pm)
Provides help with managing the stress of college life, improving communication with others, and developing meaningful & healthy relationships
Trans* Support Group (Fridays, 2-2:50pm)
A supportive space for students who identify as trans, genderqueer, gender fluid, non-binary, bigender, and/or those questioning their gender identity
The MUSE (Managing Unwanted Sexual Experiences) Group 1: (Wednesdays. 4-5pm)
A supportive space that empowers survivors of an unwanted sexual experience thru greater understating of trauma & the trauma recovery process
Flexible and Balanced (FAB) Living Group (Thursdays,4-5:20pm)
Learn effective strategies for recognizing and changing perfectionistic thoughts and behaviors that cause you stress or distress
Skills for Success Workshop (Wednesdays 12-12:45pm)
Provides coping strategies to deal with stress, time management, motivation and anxiety that often interfere with meeting personal, social, and academic goals. Students can pick and choose which weeks to attend with this drop-in workshop.
All groups take place in the Counseling Center and are free, confidential, and small-sized (6-8 students).
Be sure to contact the Counseling Center for further information.