SGA & Retriever Essentials Raffled Food Drive!
Bring your donations to be entered into a raffle for prizes!
November 14, 2019 1:46 PM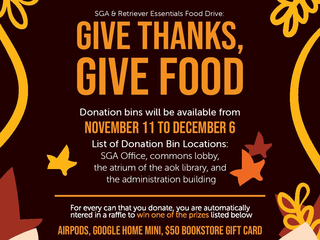 Hello Retrievers!
We're happy to announce that we will be conducting a food drive for Retriever Essentials! It's an exciting endeavor that we are hoping you will be able to join us in. 
"Widely reported research has shown surprising levels of hunger and homelessness among American college and university students. Some have been found living in their cars in campus parking lots; others rely on food banks, often stocked by classmates. Now colleges and universities themselves are pulling together more permanent solutions, often in collaboration with local housing authorities and non-profit partners."
Unfortunately, food insecurity is a common experience that many UMBC students struggle with every semester. We are hoping to bring more awareness to Retriever Essentials and the many useful resources that it provides on campus. 
As such, we are hoping that you can donate to our food drive. Doing so will put your name in for one of three prizes we will be raffling out!
Raffle Prizes:
Apple Airpods
Google Nest Mini 
$50 UMBC Bookstore Gift
Items that we will be receiving: 
Canned Vegetables: carrots, green beans, peas, potatoes (please no corn)

Healthy cereals: plain oatmeal, plain Cheerios and other healthy non-sugar sweetened cereals – please no Fruit Loops, Sugar Frosted Flakes or other unhealthy cereals

Protein: canned tuna, canned beans, canned chili, peanut butter

Canned fruits: canned fruit packed in its own juice or made with Splenda

Starch: brown Rice, pasta, macaroni and cheese

Miscellaneous: pasta sauce, soup (vegetarian especially), snacks (granola bars, individual servings of nuts)

Supplies: paper bags and canvas/reusable grocery bags

Clothing: coats, hats, gloves, scarves
In order to participate in the raffle you must:
Be a UMBC Undergraduate Student

Exchange a donation at either the SGA Office or our Senate Office Hours that are held in either the Breezeway or Main Street for a raffle ticket

1 Raffle Ticket per Donation Item
**Items brought only to SGA directly will allow you to participate in the raffle!**