DEADLINE EXTENDED: 2019 SGA Candidate Application
Executive Branch only!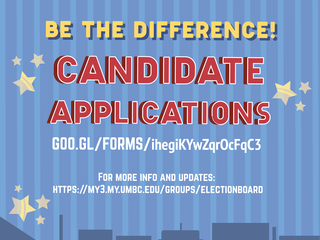 Due to the ineligibility of some candidates, the Election Board has voted to extend the application for the Executive positions (President/External Vice President, Treasurer, and Vice President for Student Organizations). This change reflects the Election Board's belief that it is important that all the elected positions have competitive races.
The deadline of the candidate applications has been EXTENDED to Wednesday, March 20th, 11:59 PM. Applicants are expected to attend a mandatoryvirtual candidate orientation on Thursday, March 21st, at 12 PM (noon). New applicants are NOT permitted to begin campaigning until Friday, March 22nd.
All eligible UMBC students are invited to apply.
Students can apply here.
Learn more about SGA and its elected Executive positions here.
All candidates are responsible for knowing and abiding by the SGA Election Rules, found here.
For any questions or concerns, please contact the SGA Election Board Chair, Jessica Kweon (jkweon1@umbc.edu).