Baltimore County Executive Forum
Come and meet the candidates for Baltimore County Exec!
Monday, October 15, 2018
6:00 PM - 8:00 PM
Fine Arts : Recital Hall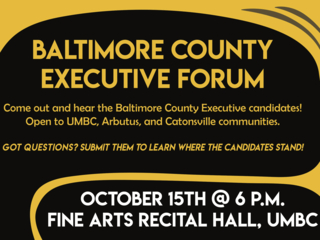 In partnership with the Greater Arbutus Business Association, The Catonsville Chamber of Commerce, and the UMBC Student Government Association's Election Night Extravaganza, we invite the greater UMBC community to a forum with the candidates for Baltimore County Executive. 
Community members will be able to submit questions for the candidates to respond to.